It's Time To Stop Confusing Physical Strength With Mental Toughness
Rugby is a tough and sometimes brutal sport that comes with a variety of different assumptions about the players involved.
If you play rugby, or are even involved in the sport in anyway, you are automatically presumed to be strong. Perhaps this has to do with the sheer number of barriers that we as women have to overcome to even step on the pitch in the first place, or the balancing act of being a full-time athlete on part-time wages, I don't know. But what I do know is that this assumption can often be unhelpful and damaging to a player's mental health.
What people often forget to understand, and this isn't just applicable to women's rugby as I am sure the same goes for the men, is that physical strength and mental strength are worlds apart from each other.
Physical strength and mental strength are two very different things which are often, I would argue unhelpfully, grouped together. When you first tell someone, you are a rugby player you are bound to get one of the following responses:
"You must be so strong" or "Wow you have to be strong to play that game".
I would argue that this perception of strength can often be harmful to a player's mental health and here is why. I can recall countless numbers of situations that I was involved in where I mentally said to myself "You're a rugby player you'll be fine" as if playing rugby gives me some sort of secret weapon to be immune from poor mental health, who did I think I was?
But the truth is we all do it, we all feed into this idea that because we play a brutally physical sport, we must have some form of mental super strength too, because the two forms of strength are the same, right? Wrong. I've known some of the most talented, powerful players completely break down because of crippling anxiety, stress and depression, rugby players aren't immune to mental ill health, no one is.
Don't get me wrong, I love the hardiness of the sport, I love being known as a rugby girl, I think we all do, but it's when that reputation starts to get in the way of your mental wellbeing that it becomes a problem.
I have to admit that through the work of mental health charities such as LooseHeadz we are slowly breaking the stigma around mental health and not always being okay. For example, it's more common now for people to ask twice if you're okay, rather than just throwing the question out as a pleasantry, it's a genuine act of care.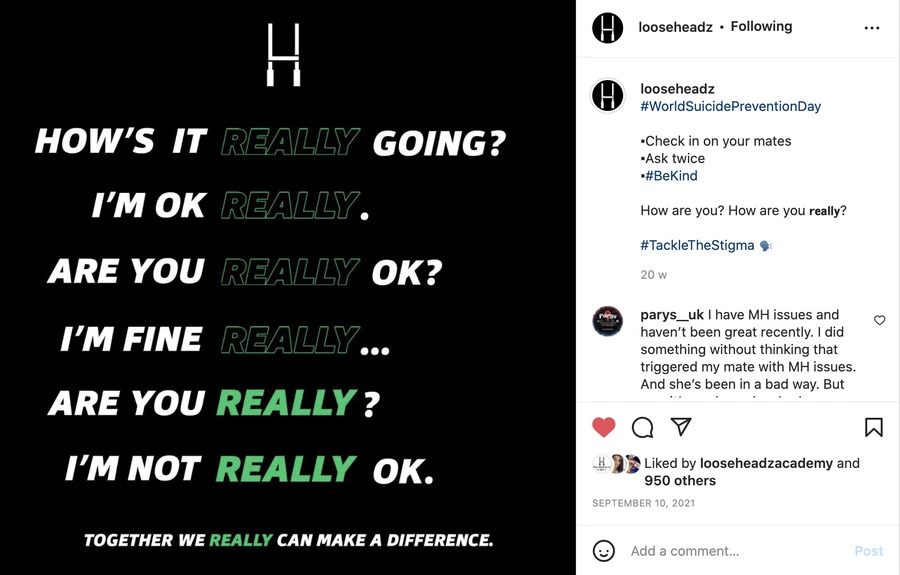 Glancing over to the elite level of the game, its clear that mental strength is an area which is currently underserved. England International Rachael Burford only recently wrote a piece calling for mental strengthening to be considered a core part of any players training, and I agree.
Looking over the water, we saw Black Ferns player Te Kuru Ngata-Aerengamate take to social media to bravely call out poor treatment which led to her experiencing a mental breakdown.
At the elite level of the spectrum this strength narrative can be harmful to players, who have pressure to be constantly performing at their best and be consistently on their a-game. We do still have an issue with admitting mental weakness in society, and I can imagine this also bleeds into high pressure environments like international training camps.
Added to that, players can sometimes feel like they have no one to talk to about the mental pressures attached to being an elite female athlete. In her RugbyPass column, Burford revealed: "I wouldn't want to go directly to my coach, for fear of not being selected, but I also wouldn't feel comfortable confiding in teammates either."
If you add that pressure with the constant need to be perceived as strong both mentally and physically, you are left with a tough situation for these elite level athletes.
We need to lose this stigma of rugby players being "big and strong", whilst this can prove to be helpful on the pitch it can sometimes be detrimental and mentally draining off pitch.
The expectation of rugby players to be "strong" mentally can be crushing, and as women we have so many pressures coming at us from different angles, it's the last thing we need to experience. So how do we change this?
For me, it starts from the small habits and behaviours we exhibit as individuals and as a team. A simple conversation is often all it takes to alleviate some of the stress we experience as players but having a supportive club environment is essential to making this happen. Simply getting mental health on the agenda at all rugby clubs, from the grassroots up, is a step in the right direction. LooseHeadz are already making great progress in this space, having partnered with over 300 clubs around the world to implement a mental health lead who will act to keep the topic on the clubs' agenda.
If you are interested as an individual or rugby club in getting more information on the loose headz programme, please visit: www.looseheadz.co.uk/pages/partnership-programme