They Don't Care That I'm Good At rugby
Mental Health, being Gay and Rugby
Journalist and Photographer Harry James Relf has teamed up with LooseHeadz to tackle the stigma around mental health.
Now is the time, more than ever to talk about the taboo.
Northampton Outlaws RFC is a gay and inclusive rugby team that was founded in April 2012. The Outlaws is the first 'Inclusive Rugby' club in the East Midlands. The Outlaws play their rugby at the home of Northampton Old Scouts, the club who have seen International players like British Lion Courtney Lawes and World Cup winners Ben Cohen and Steve Thompson progress through the club to leave a legacy that will never be forgotten.
Men traditionally see mental health as a sign of weakness, and are therefore reluctant to seek help. To help combat this, LooseHeadz is a platform that acts as a catalyst to start the conversation, inspiring a movement towards better mental wellbeing. They are attempting to find new and innovative ways to advance the dialogue around mental health. They believe however that the solution is much more complex. The company founded in 2017 believes that by building a community, united around a shared mission, they can begin to turn the tide against poor mental wellbeing. LooseHeadz creates rugby clothing designed to get people talking and tackle the stigma around mental health.
Speaking to club Chairperson and club captain Simon Chapman, 37 who recalled his personal naivety, "Why would I set up a gay team in Northampton, when I'm the only gay rugby player?" (it was other people who believed he 'founded' the Outlaws). Being the only gay rugby player in Northampton, or anywhere, of course, isn't true. He talks about the team and states that "we're not trying to be the best rugby players and be the best we can be, but at the same time we are. We're training hard because we're enjoying what we're doing." He wants it to be "an environment where it's giving people more reason to carry on" because men are afraid to come out, they are afraid to talk about their feelings, which explains why a higher proportion of men than woman commit suicide. In the UK, the ratio is 3:1.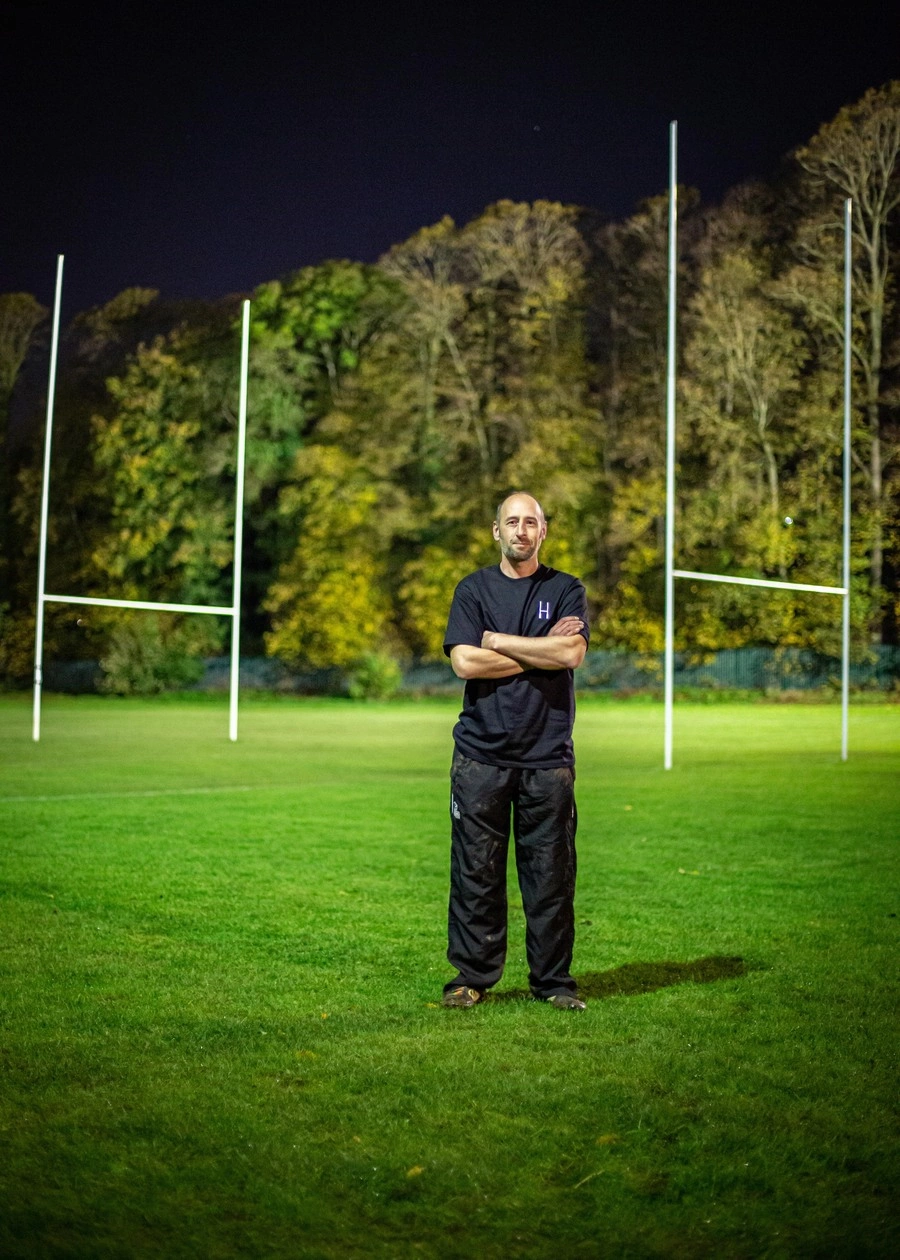 From a young age, boys are told to shut down feelings with harmful messages such as 'man up', or to only express emotions like anger. This is turn, creates fewer opportunities to form a healthy relationship with their emotions or develop a way to talk about them. As men, we are rarely told what emotions are or why we have them, so how can we expect ourselves to be good at embracing and managing them?
Despite a growing acceptance of the LGBT community, gay men are still more susceptible to experiencing poor mental health than straight men. Hugh, 56, told me "The outlaws are a club and a platform that by the very nature of existing, encourage men to talk and break down any preconceived ideas of toxic masculinity. He went on to say, "what does being gay even mean today". It's an environment where men can get together regardless of shape, size and ability. Hugh stated that "he is loving the outlaws, as it's a great expression of physicality and masculinity". "[he is] going through an incredibly messy divorce right now" and "If I wasn't running around a rugby field, I'd be running in front of traffic". Not only does this reiterate the significance of sport on wellbeing, but also that being in an environment that is typically regarded as one where you must 'man up' can be so damaging to a man's mental condition. "When I spoke to my friends who were Australian, they couldn't see the need for a gay rugby team". The Outlaws are a team you don't realise you need until you have put on their shirt, put your arm around the nearest man, looked them in the eye and know that in the face of adversity, they will have your back.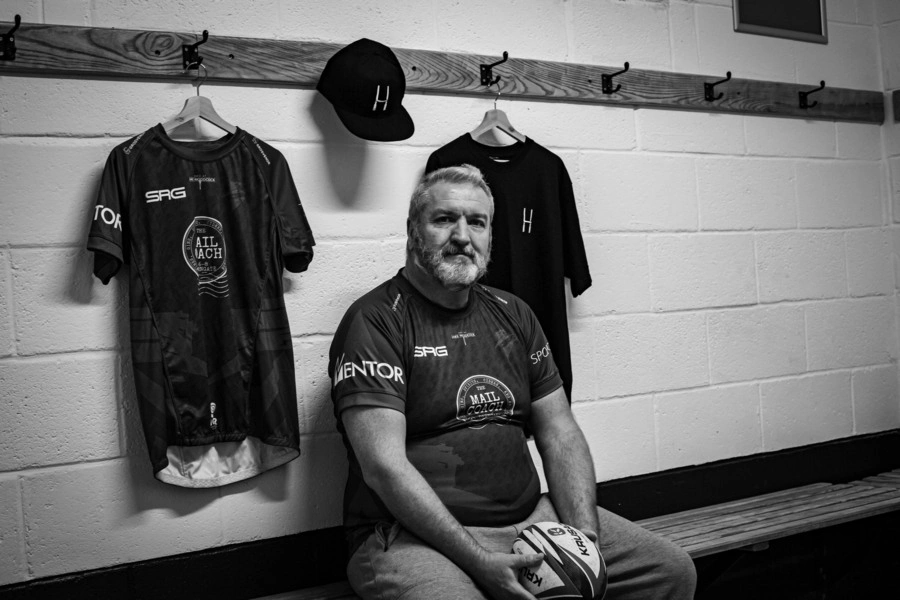 Simon Chapmans' story is quite remarkable, he once played for the Northampton Old Scouts, winning player of the year and players' player for the 1ST XV – all in the same season. He knew he couldn't carry on the life and the lie he was living, "[but] being rugby players in a rugby environment you don't think you come across homosexuality and people have questions". Ironically "people initially didn't think I was gay" but transitioning from the Old Scouts to the Outlaws for Simon "knew from that moment, that would be my salvation". The Outlaws are members of International Gay Rugby (IGR) who aim to eliminate discrimination on the grounds of sexual orientation or gender identity. They play in the IGR League involving clubs throughout the UK, Merit Leagues, The International Union Cup and the renowned Bingham Cup - the biennial world championship of gay and inclusive rugby - considered to be 'The World Cup of gay and inclusive rugby'. This apex IGR tournament was first held in 2002, to commemorate the loss of gay rugby hero, Mark Bingham, one of the passengers who fought back against hijackers on board United flight 93 on 9/11.
Generally, men have fewer people in their lives whom they can call on in times of difficulty and isolation. After speaking to Ash, 24 I learned that for him "as a gay male, you tend to have more female friends, and the Outlaws has allowed me to become friends with more males". There is no doubt, that rugby creates camaraderie and an environment in which 15 men can unite together, but we must encourage the conversation around mental health to be normalised. We need to be reminded that it's okay not to be okay.
Mental health isn't something you admit to, mental health is a human experience - it isn't you, but something that happens to you and by talking openly it can often be eased. In an environment like a rugby team where men can be reluctant to seek help mentally, we must break down the taboo, start talking and #TackleTheStigma.
We spend 80 minutes of a rugby match communicating, it shouldn't stop at the final whistle.